Workshop Storico-Scientifico: Observing, Sensing, Detecting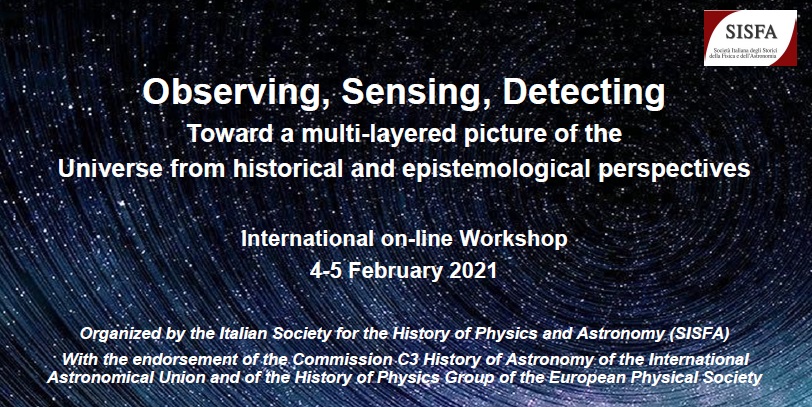 Nei giorni 4-5 Febbraio 2021 si terrà on-line il Workshop internazionale intitolato:
"Observing, Sensing, Detecting. Toward a Multi-layered Picture of the Universe from Historical and Epistemological Perspectives"

Il Workshop è organizzato dalla Società Italiana degli Storici della Fisica e dell'Astronomia (SISFA), con il patrocinio della Commissione C3 History of Astronomy dell'International Astronomical Union, e del Gruppo di Storia della Fisica dell'European Physical Society.
A conclusione delle due giornate ci sarà una speciale tavola rotonda, che vedrà partecipare alcuni dei maggiori esperti mondiali di astronomia multimessaggera:
Barry Barish (University of California, Riverside) Reinhard Genzel (Max Planck Institute for Extraterrestrial Physics,
Garching)
Malcolm Longair (Cambridge University)
Malcolm Longair (Cambridge University)
Christian Spiering (DESY)
Alan Watson (University of Leeds)

Il programma completo del Workshop è raggiungibile sulla seguente pagina web
Sarà possibile seguire come uditori, seguendo le istruzioni dettagliate che saranno fornite sulla pagina web indicata.
Il link per accedere al workshop sarà disponibile nella stessa pagina a partire dal 25 gennaio 2021.

On behalf of Organizing Committee
Adele La Rana
Organizing Committee
Luisa Bonolis, Max Planck Institute for the History of Science Roberto Lalli, Max Planck Institute for the History of Science Adele La Rana, University of California Riverside & University of Verona
Allegati:
Data: 04/02/2021 - 05/02/2021